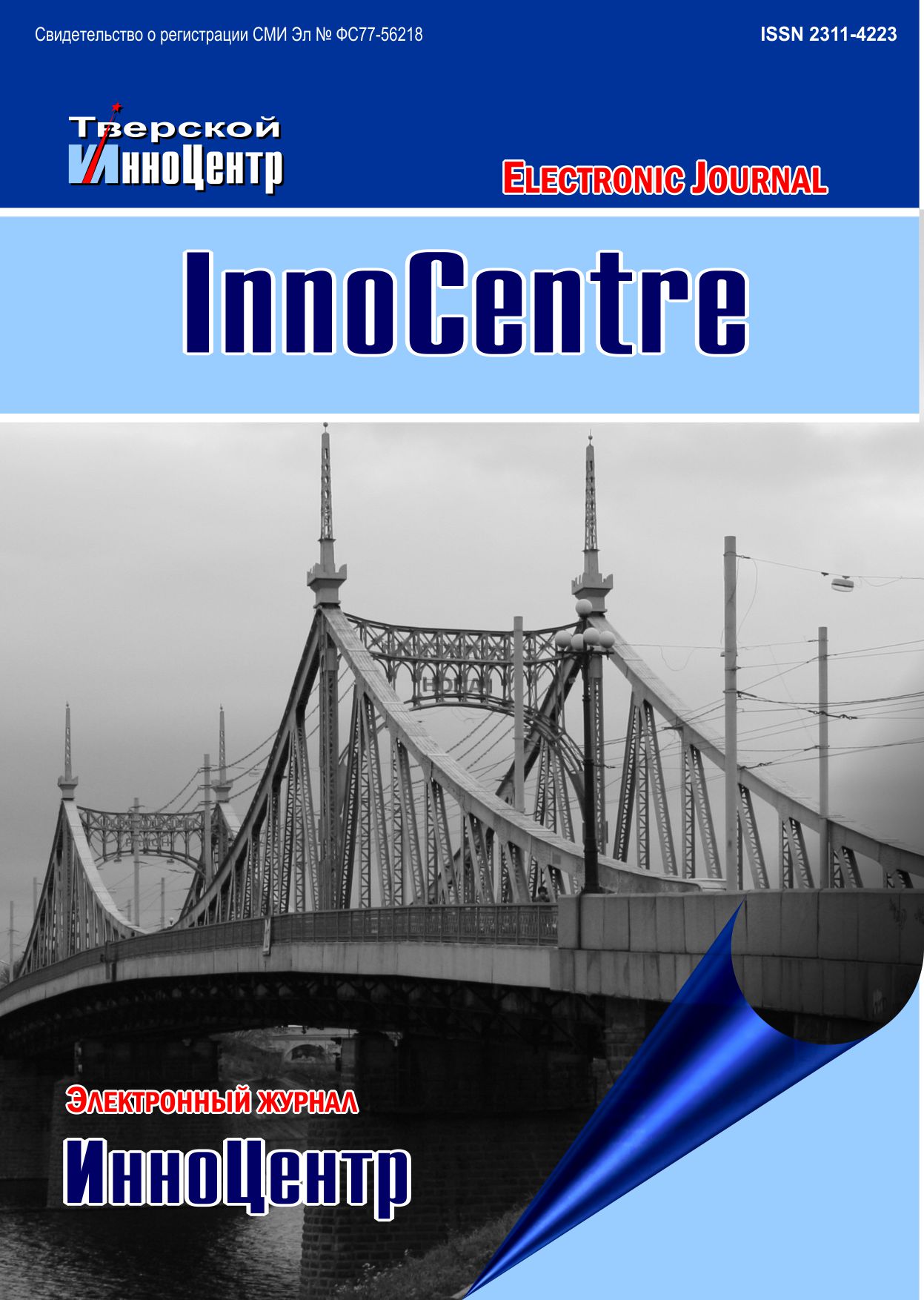 About
InnoCentre Electronic Journal was established in 2013 by Lurye Scientific and Methodological Center for Higher School Innovative Activity of Tver State University.
Founder: Federal State Budget Educational Institution of Higher Education "Tver State University"
The mass media registration certificate No. ФС77-56218 is granted on 28th of November 2013, registered by Roskomnadzor.
ISSN 2311-4223
The journal is onlain publication.
Sign of information products: 0+
The editor-in-chief is Maltseva Anna Andreevna, Candidate of Economic Sciences, director of the Tver Innocentre
170100, Tver, Studenchesky Pereulok, 12 (Building B)
Editorial office, phone: (4822) 35-54-43
Editorial office, e-mail: journalinnocentre@gmail.com
The journal encompasses such issues as the world practices and current trends in management, economics and innovation.
Frequency

Quarterly (April, July, October and January)
The scopes of the journal include:
Methodological basis of the generation and transfer of innovation
Innovation processes in micro- and meso-level systems
Problems and prospects of development of innovative infrastructure
Development of regional clusters
Innovative activities in higher education
Legal and organizational framework for the operation of small innovative business
Planning and forecasting of innovative development
And others
Papers are published on the journal's website in PDF format.
The content of journal is focused on researchers, on experts in innovation and management, on undergraduate and graduate students of economic specialties. We invite authors and advertisers for mutual beneficial cooperation.
The journal is published in Russian and English.
Indexing
Russian Science Citation Index
Directory of Research Journals Indexing
Electronic Journals Library
Open Academic Journals Index
Academic Resource Index
Scientific Indexing Services (SIS)
Citefactor
InfoBase Index
Journal factor
Index Copernicus
Indexing pending
CiteSeerX
CEEOL
JJour Informatics
Cabell's Directories
Academic Journals Database
Root indexing
---
Indexing
Russian Science
Citation Index
Directory of Research
Journals Indexing
Electronic Journals
Library
Open Academic
Journals Index
Academic Resource
Index
| Scientific Indexing Services (SIS) | Citefactor | InfoBase Index | Journal factor | Index Copernicus |
| --- | --- | --- | --- | --- |
| | | | | |
---